Buildings and Infrastucture

Buildings and Infrastructure
2022, Charles Nodrum Gallery, Melbourne
This work,
Buildings and Infrastructure
, depicts fields of pipes, tubes, drains, bits that might be transformers, compressors and connectors.
It's the stuff behind the plaster, inside the walls. It's there all the time, unseen under the facade of my home.
Damage, 2021, oil on canvas, 47.5 x 40.6 cm

Green Building,
2022, oil on canvas, 91.4 x 25.4 cm
I have passwords and key chains and lists of appliances that manage gadgets connected to the infrastructure. There are circuits, and portals needed in my home, on the computer, and around the city. Wires hum, drains gurgle and construction sites expand and populate. My heart races when I try to comprehend all of it. To me, the buildings seem like bodies with all the messy parts under the skin. They can have personalities, frailties and complications. All of them are different and similar, some fitting in or standing alone.
To make things function, sometimes messy connections are necessary. Occasionally I'll meet a plumber or an electrician and am amazed at the way they see and make things. Their work often looks ugly. Sometimes it's elegant.
As a background to the building paintings, the painted wallpaper appears to form an ongoing pattern, but there is no repetition as every part is unique. There is no singularity. Everything is related, inter-dependant and connected.
Infrastructure II,
2022, acrylic on canvas, 150 x 200 cm

Infrastructure I, 2021, acrylic on canvas


[l-r]
Connector
&
infrastructure II,
2022, installation view
Sleeper,
2021, oil on canvas, 61 x 58.8 cm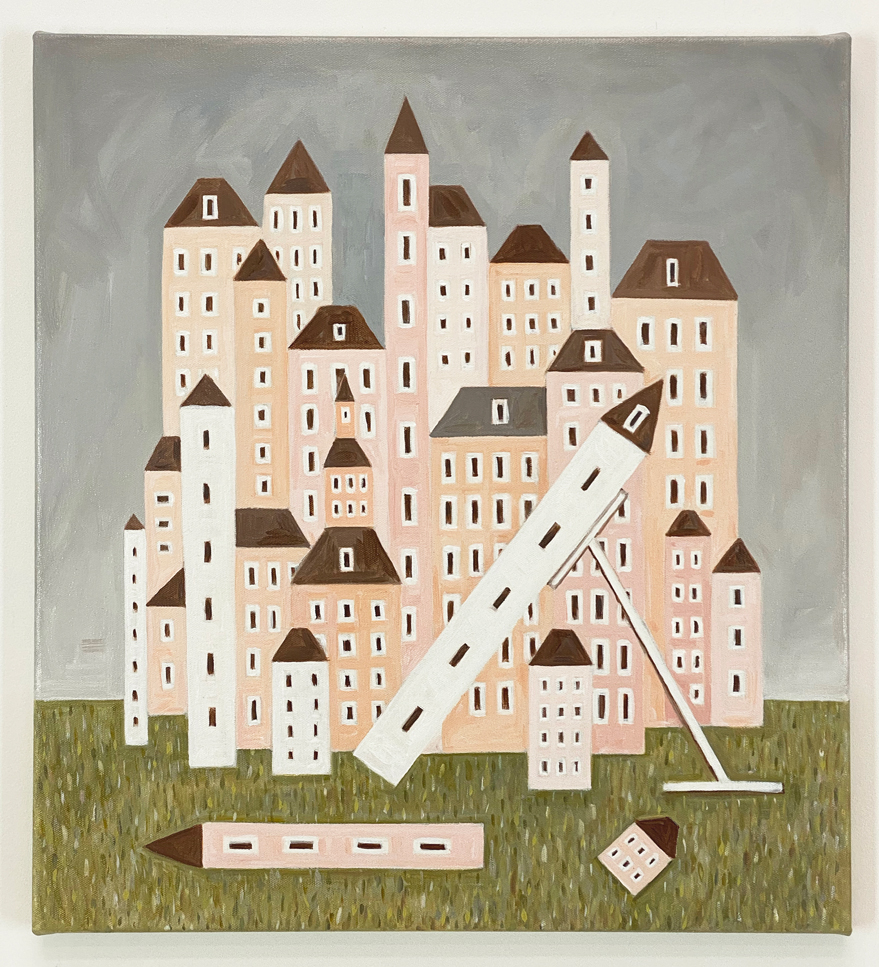 Structural Issues, 2021, oil on canvas

,


Infrastructure Wallpaper,
2022, acrylic on paper with
Pink City I,
2021, oil on canvas, 56 x 50.8 cm
Paris Buildings, 2017
ink marker and acrylic on paper