Lorem Ipsum Dolor Amet
34598—34
---
Sadie Chandler is a Melbourne based artist working in painting, drawing and installation. Sadie has exhibited her works throughout Australia and interntionally.

---
My work usually involves painting and installation. It can be abstract and figurative. No matter what medium or form, my approach is that of a painter, aware of the limitations of painting and its history. When I consider the projects I've done over the years, I think about how they fit together. How, for instance, the abstract Spray Paintings series relates to the Pin-up Girls or the Factorywork series and the various connections between these different projects.
Installation view Work from the Attic @ Occasional Space



I make wallpapers, paintings and occasionally objects based on what I see around me; cities, factories, cars, houses, things in the media and in museums; pin-up girls, portraiture and landscape images. There is a similarity of style in all of my works. I use a heavy line and flat areas of colour and there's no attempt at realism. Indeed, it's often described as cartoon-like. I tend to draw in a graphic way using outlines, without realistic shading or perspective.

In some ways, I have a fairly traditional practice, because I'm caught up in art history. My studio practice could also be regarded as traditional because I don't outsource any of my production and my work is mostly made of oil on canvas or ink on paper. I like to use old-school materials rather than new technologies and prefer the solitary studio life to running around to printing labs or getting other people involved. My work plays with the idea of the unique and creative production of the artist in the age of digital reproduction.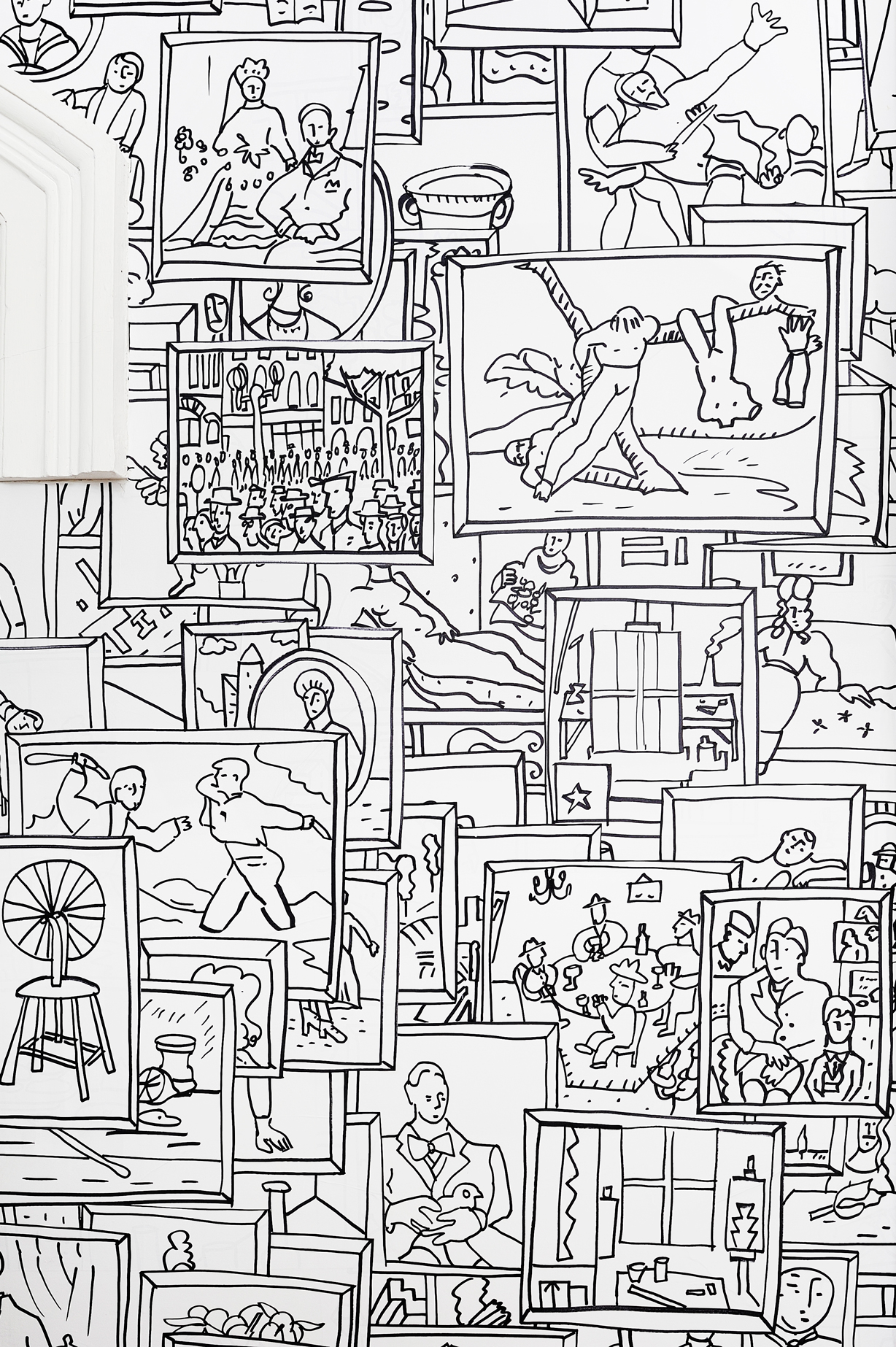 The Weight of Images, 2017, ink marker on paper, (wall paper installation detail)




I'm interested in how images work, how we see them through the inescapable trap of art history. Iconic works of art in museums are already known before we see them in the flesh, so we're always stuck with embedded memories of them.

As an artist, it's impossible for me to forget all the images that have come before the ones that I make. I'm aware of being trapped but also propelled by these images and histories.
At the Computer
, 1999, oil on canvas, 120 x 180 cm
---